Good day LVM Track clients and partners!
We are pleased to announce this month's feature enhancements to LVM Track and add-on applications. How are you enjoying the LVM Track Service? Did you know that our platform now has 2.7 million assets globally and grows about 100,000 every 1-2 months?
There's something that people love about this platform, including our valued Canadian customers!
Have feedback or suggestions? Get in touch with us by sending feedback to info@lvmtech.com.
Quick Summary – Wi-Fi positioning now supported, automatic vehicle type detection, and authorizations, have been added. Read on for full details.
Announcing LVM & VisTracks ELD Partnership
In line with our continued commitment to our clients, we are now happy to announce the launch of our Pro ELD product, via a partnership with VisTracks/Omnitracs.
We have added the VisTracks ELD, the most comprehensive tablet/smartphone and portal application in the industry. A fully certified ELD solution by federal and state regulations as well as Canadian and Mexican regulations. VistTacks was one of the first Canadian ELD providers to submit for Canadian Mandate approval.  All VisTracks services are based on the same platform and are fully integrated with tablets/smartphones, vehicle hardware and share a common user interface.
Easy to use, minimal training required on-screen documentation to minimize errors, and support costs.
HOS (Hours Of Service)
VisTracks™ Hours of Services is a powerful but easy-to-use tablet/smartphone and portal-based service certified with US Department of Transportation Federal Motor Carrier Safety Administration (FMCSA) regulations for electronic logs and vehicle inspections. Regulations for electronic driving and vehicle inspection logs have become commonplace to ensure the veracity of driver tablet input and ensured compliance with regulations. VisTracks Hours of Service is compliant with federal and state regulations as well as Canadian and Mexican regulations.
DVIR (Driver vehicle inspection report)
The standalone DVIR product (aka DVIR-only) provides the administrative tools and smooth driver experience you expect from LVM VisTracks while slimming down the feature set to exclusively DVIR-focused. This allows you to leverage the DVIR functionality across mixed fleets. The DVIR-only features are made available to a non-ELD driver via the same application so there is no need to install anything new. A DVIR-only user will log in and be limited to the DVIR screen, where they may select vehicles and trailers, review previous DVIRs, conduct inspections, mark repairs, take pictures, and certify the DVIR with pdfs that are shared immediately with the administrative portal.
Prepare for the upcoming Canadian ELD & Upgrade to LVM Vistracks today!
Are you ready for the upcoming Canadian ELD compliance? It will become into effect on June 12, 2021. Make sure your ELD is fully certified. If you are looking for a new ELD or upgrade to LVM Vistracks, contact us today!
Email: info@lvmtech.com
Phone: 1-800-964-4551
LVM Track New Features and Enhancements
Wi-Fi positioning
If your device supports Wifi, we can now accept wifi position data when GPS is not available.  Think Parking Garage, in-building, or blocked GPS antenna. This is a great backup way to continue to see your asset locations, without having a full GPS signal.
How Wi-Fi geolocation works 
Devices that support Wi-Fi-based positioning can send data regarding the closest Wi-Fi access points to the LVM Track platform. The data is used for detecting the device's location.
To set this up, there are a few quick steps to follow.  If you believe your device supports Wifi positioning, but you're not sure, check in with our support team and we'll assist!  Go to the Advanced properties tab in Messages validity filtration section. Then, select Determine location by Wi-Fi points option. After that, a user indicates the minimum and maximum amount of Wi-Fi points the signal LVM Track should receive from the device. The Accuracy parameter specifies the accuracy of the device location to be considered valid.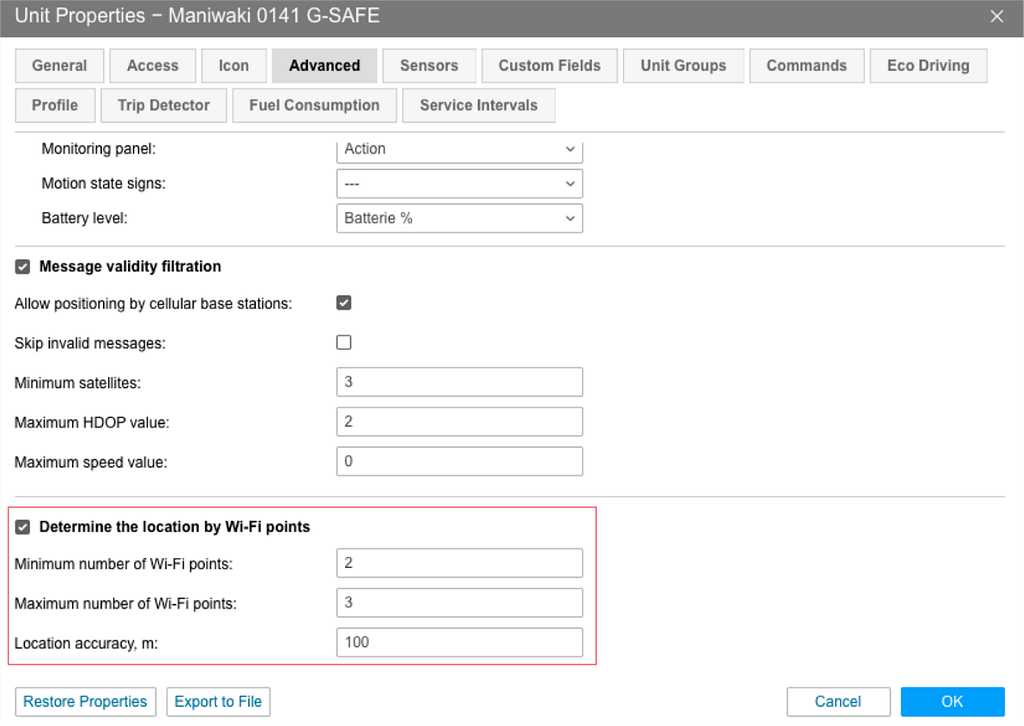 Automatic vehicle type detection 
In March, we announced the creation of the device type library in LVM Track Hosting. The idea to launch this library is to automate data in the system for every customer, but also provide extra value-added information.
We've just added the ability to automatically determine the vehicle type. You don't need to do anything – the system will do it for you.
In order to teach your system to determine vehicle types as accurately as possible, the system needs to collect as much data as possible. For users with the authorization to edit the device properties, we suggest going to the Profile tab and check the vehicle type determined by LVM Track.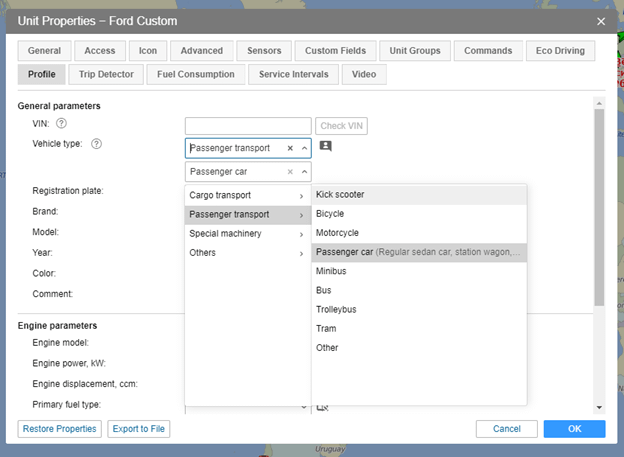 The more users interact with this parameter (confirm or reject the suggested vehicle type), the more precise the automatic device type detection will be.
Agri+
Columns with consumables in reports
If there are any registered consumables in the cultivation, they will be displayed not only in the cultivation's detailed dialog but also in the report table – one column per one consumable. For example, Fertilizers: ammonium nitrate. The display of consumables is turned on by default. You can turn it off in the table's settings.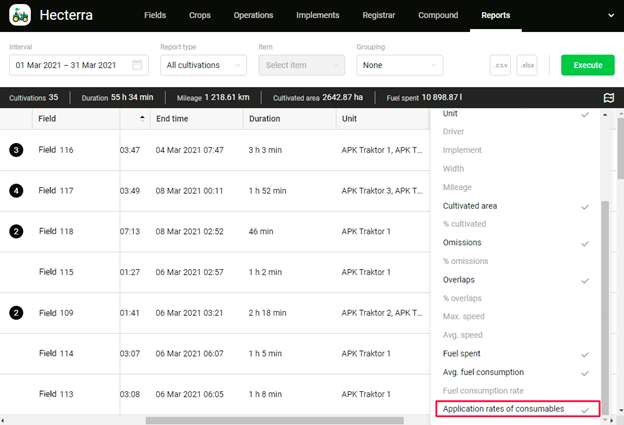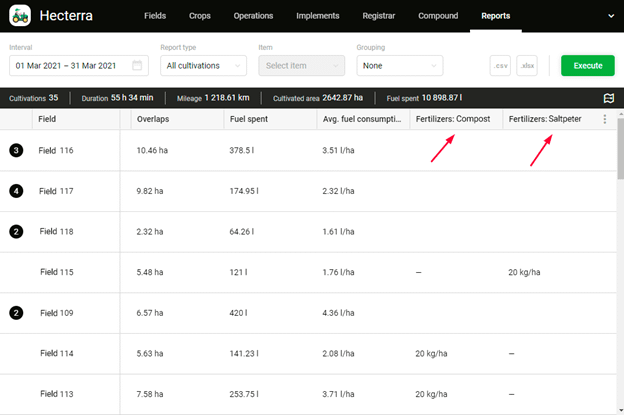 Keyboard navigation
We added keyboard shortcuts so that you can navigate pages and elements quickly. These features will increase your productivity.
| Keys | Actions |
| --- | --- |
| Tab | Move forward |
| Tab + Shift | Move back |
| Enter, Space | Select an element, click on the button |
| Arrow Up/Down | Move forward/back through the list of options; decrease/increase values in numeric fields |
| Esc | Close menu |
Freezing the Field column in reports 
You can change the visibility of the report's columns in the table settings. This rule is applicable to all columns excluding the Field column as now it is always visible and can't be hidden. While scrolling the table horizontally, the user will see that the Field column is fixed. Thus, the user always knows the info on which field he is viewing.
Find more on the new features, as well as comments on the app processing and user experience on the forum.
Maintenance+
Specific Notifications on Intervals
You can now select notifications for specific objects or service intervals.  This allows you to set up notifications on just the most important service intervals, reducing the volume of incoming notifications.
To activate this option, go to the Notifications tab and edit it by clicking the select buttons. By default, all service objects are selected.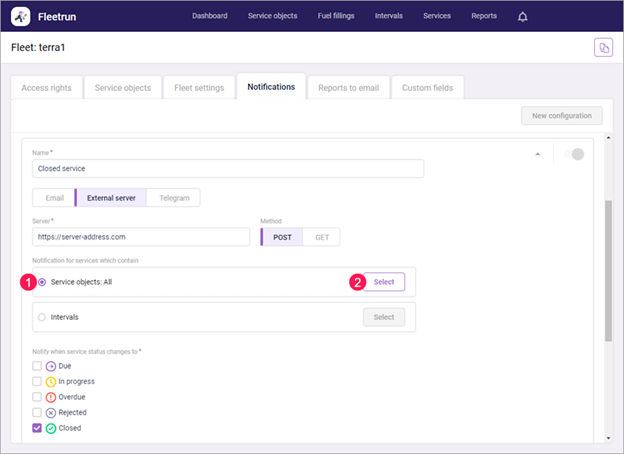 The total cost of services and fuel on the device page 
A new display option has been added. Now you can monitor not only the service and fuel costs separately but also their total value. To display this, select Total cost in the upper dropdown on the Device info tab on the device page.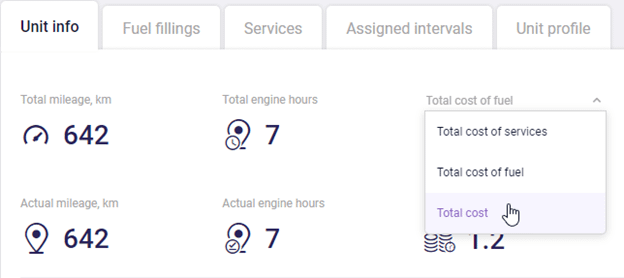 No limit for the number of the List custom field elements
We removed the limit on listing custom fields. The limit used to be up to 20 fields, and this is now unlimited.
This is great for large fleets and or companies that have a lot of custom parts for Maintenance and equipment service.
Dispatch+
Route Optimization algorithm improvement 
You've probably noticed that Dispatch+ has received a lot of love this year.  One huge project that is now live is a new route optimization algorithm. This is live today, and uses more modern techniques to create the most optimal route for your fleet and drivers each day.  These enhancements drastically reduce travel time, allowing our clients to take extra jobs, and increase revenue.
Planning modes
Now you can simulate the planning modes for building the route. You can choose three planning modes, cost-effective, balanced, and fast. In order to select and see the mode, go to the Optimization settings and see how the mode you chose affect the route cost.
cost-effective (fully loaded vehicles, minimum mileage, loose adherence to delivery intervals);
balanced (fully loaded vehicles, minimum mileage, strict adherence to delivery intervals);
fast (reduction in the delivery time due to the maximum number of devices).
These 3 options allow you to evaluate the productivity of your fleet and chose the best option for your business.
Taking into account the vehicle location
Turning this on uses the vehicle's current location, instead of a fixed address, when creating routes. With this option is enabled, the routes are planned taking into account the location of vehicles during planning. If the devices are fulfilling other routes, then the last points of these routes are taken into account. The location of devices will be considered when planning the sequence in which the orders are visited, route duration, and mileage.
Application example: If there is a new order during the day, the vehicle assigned to it considering its current location, not the office yard which would make a huge difference in routing time.
Exporting orders
The option of exporting orders as a table to XLSX and CSV files has been added.
The table columns are the same as the order parameters. You can use the files with the orders for import to another account, integration with other systems, and so on.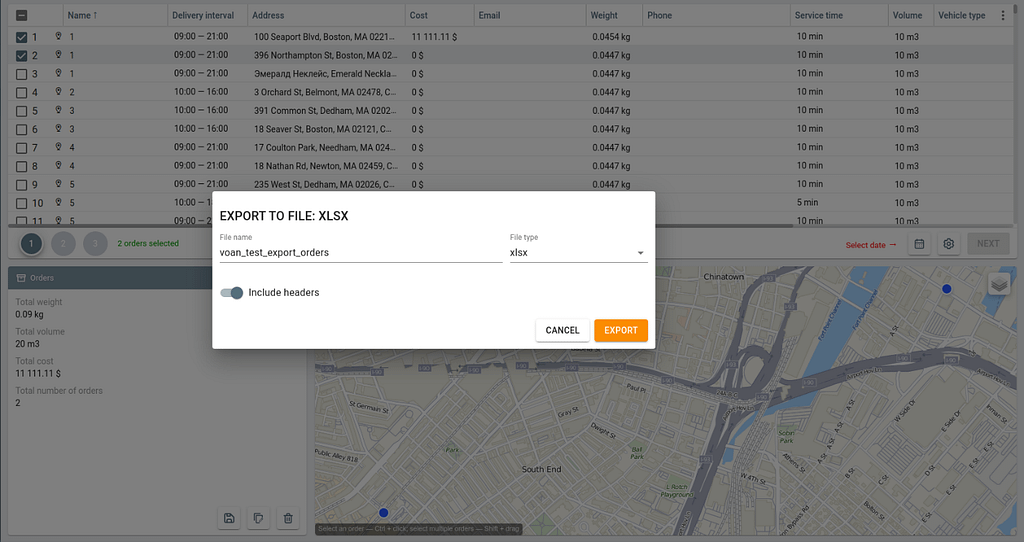 Contact us today!
Email: info@lvmtech.com
Tel: +1-800-964-4551