How GPS Tracking mitigates risk in the global supply chain.
Since COVID-19 hit the world and has affected in-store shopping, many people are opting to use online shopping.  This can lead to supply chain disruption due to the higher demand. This demand is accelerating other risks, "cargo theft". Cargo theft is a significant risk in the global supply chain when it comes to global transportation by land, air, and sea. In fact, cargo theft increased by 23% in the third quarter of 2020 from third-quarter 2019 in the U.S. and Canada.  It was an estimated total of $33.77 million in stolen cargo across the U.S. and Canada according to the statistics by AJOT .
If you are wondering where cargo theft is happening and what products are targeted, here are some interesting facts according to the reports from TT CLUB and SensiGuard.
Cargo theft by location in North America
U.S. – Cargo theft by the state
California: 23%
Texas: 11%
Georgia: 10%
Florida: 9%
Canada – Cargo theft
Ontario: 75%
Quebec: 19%
British Columbia: 2%
Cargo theft trends
According to the report from TT CLUB, it shows that most cargo theft type was Hijacking at 69% followed by theft of vehicle at 10%.
Regarding the location of the theft, it mostly happens in-transit at 74%. The cargo theft of food & beverage accounts for 33% of the top commodities stolen.
GPS asset tracking
Cargo theft is a headache for companies with multiple warehouses and operational lines of business. It is challenging to keep track of all vehicles/assets and take care of unexpected events. Without appropriate action, you are at higher risk of losing credibility with your clients as well.
How GPS telematics help detect and mitigate cargo theft
The No. of businesses tracking assets is expected to exceed 114 million by 2025 as we mentioned in a recent blog. This is a significant increase in demand for location-based and asset tracking services in the next few years. The industry started taking advantage of the benefits of GPS tracking.
What exactly GPS tracking can help?
Real-time tracking
With GPS Tracking, you can locate exactly where your vehicles/assets are when they are stolen. Based on the data from GPS Tracker, you can also check travel history so you will know where your vehicles/assets were stolen, how they traveled to the final destination and where they are now.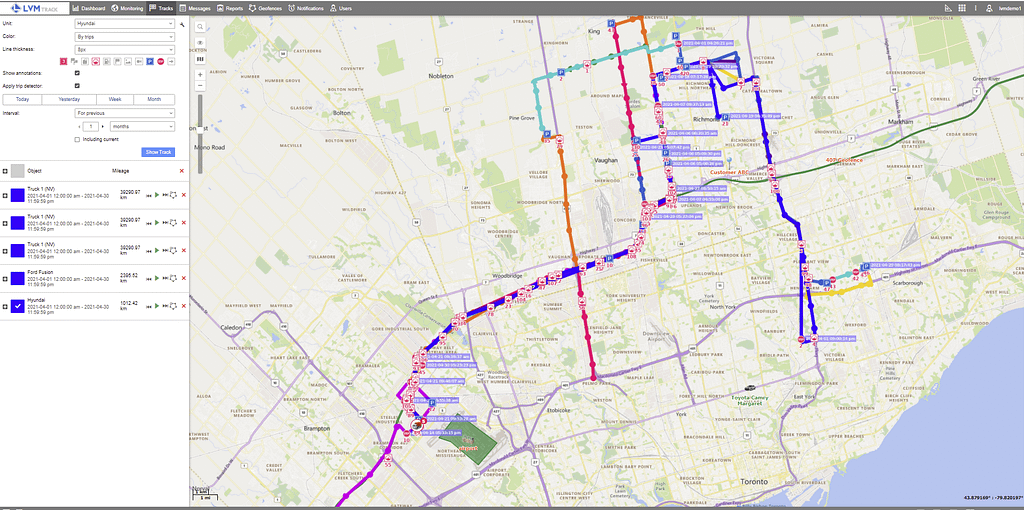 Geofencing
GPS Tracking has an amazing feature, Geofences. It is a virtual border drawn on the map in a GPS tracking system. You can create a geofence area where you would like to mark yards, clients, even routes. You draw the geofence border like the photo below. Once the geofence is created, it is used as a trigger for alerts when your vehicles/assets enter or exit from the geofence area. As soon as the GPS tracking detects the activity, it will send you an alert. In case of theft, once the GPS tracker detects unauthorized movements, you will receive alerts so that you can immediately act against the event.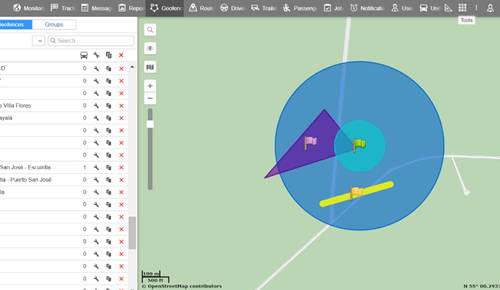 Insightful GPS data
GPS tracking software provides you with insightful data you can use to protect yourself against future theft/attack. You can analyze reports that tell you what happened, where, and why the event occurred. Based on this insight, you can plan preventive measurements to mitigate risk. For instance, you can change the route based on the location where the theft happened.
Dash camera – GPS Telematics
Dash cams attached to your vehicles can be a huge lifesaver in terms of theft. Some dash cams have built-in or optional GPS receivers. Not only video recording, but also dash cams have features that will be able to detect motion or impact. Dash cams will send alerts if there are any unexpected events in or outside of your vehicles.
The most advanced telematics platform
LVM Track offers the most advanced telematics platform with unparalleled fleet management tools. We meet 99% of all business needs with the largest platform globally, tracking over 2.6 million assets and growing. Prevent potential loss and impact to your business by taking immediate preventative action with LVM Track advanced GPS telematics.
Learn more about LVM Track GPS telematics.
Contact us today!
Email: info@lvmtech.com
Tel: +1-800-964-4551