E-commerce industry is booming as consumer buying behaviors have changed to largely online. Today, consumers expect cheap, free and fast delivery and this is becoming the standard in the e-commerce space. In order to meet consumer expectations and move past competitors, companies need to find a way to improve delivery efficiency but maintain their margins when funding their shipping logistics.
The most important part they need to improve is their last mile delivery process. Last mile delivery is where most logistics companies have the most room for improvement, mostly lacking tools or services that cater to these needs.
What is Last Mile Delivery?
Last Mile Delivery refers to the last leg of a journey of the delivery process when a package is moved from a transportation hub to its final destination, which is usually end-users.
This is the most crucial step in the delivery process because customers expect fast and free delivery, and this demand increases constantly in e-commerce as competitors constantly push these boundaries to maintain competitiveness. The faster and more efficient the last mile delivery process is, the more you can improve customer satisfaction which will ultimately boost sales.
What is the biggest challenge with last mile deliveries?
Have you had a package "out for delivery" but you felt it took forever, even spanning multiple days? That means the last mile delivery process is inefficient or inaccurate and the consumer suffers, not knowing when their package will arrive, driving unnecessary calls into call centres, and driving up frustration levels in consumers.
According to the report from EFT (eye for transport), customers are expecting the following services;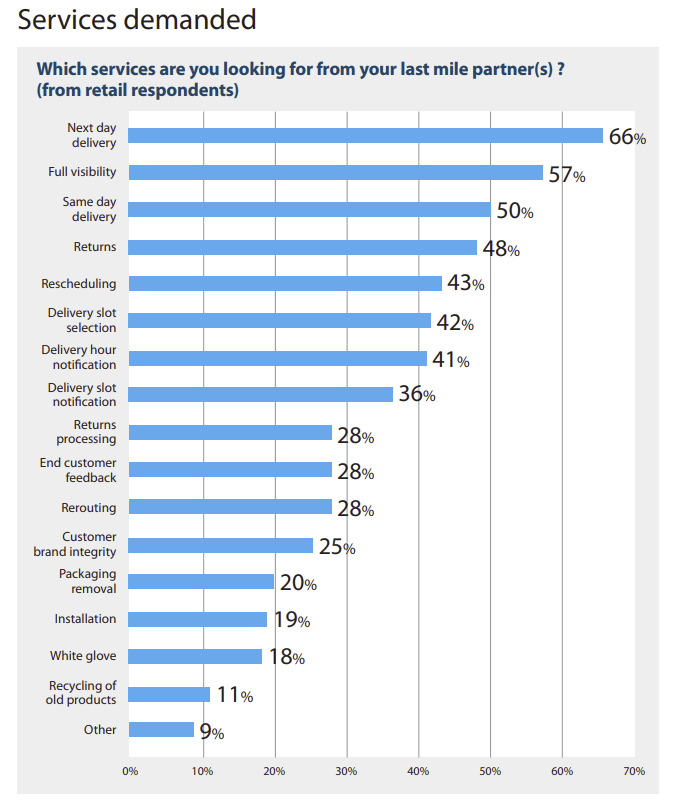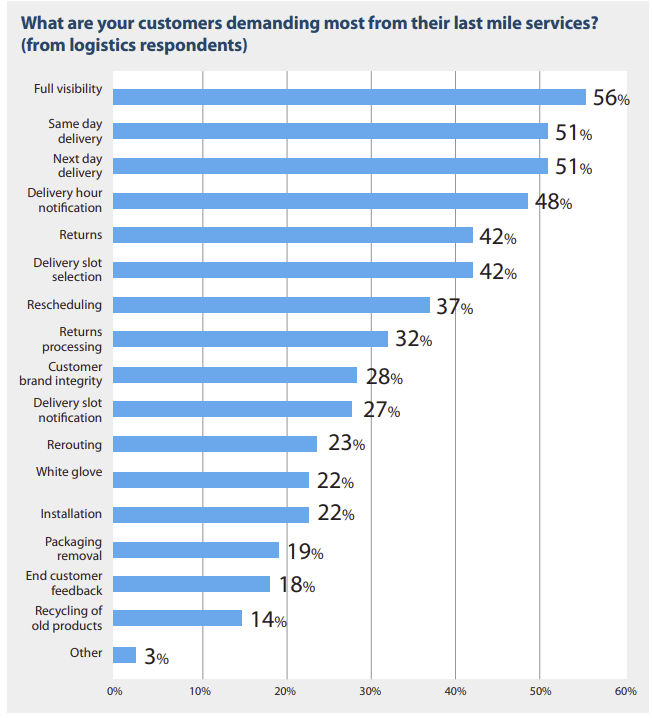 In order to meet those customers' demands, companies have to find a way to improve the last mile delivery process. However, there are the last mile delivery problems for companies.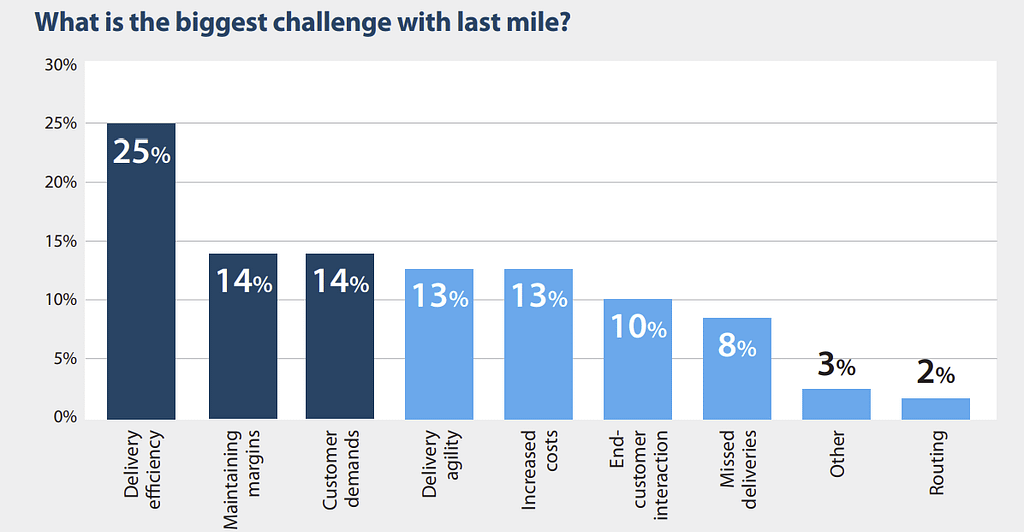 Last mile delivery is both the most expensive and time-consuming part of the shipping process. Last mile shipping can account for 53% of a shipment's total costs but this number is increasing as supply chain inefficiencies are becoming more costly (INSIDER). At this point, companies have to implement new technologies and improvement of the delivery process.
Technology solutions to improve last mile delivery
How can companies provide customers' expected demands, such as next day delivery, free shipping and full visibility?
Having an effective fleet management tool is a solid place to start.
LVM Track's DispatchSolution is a fully-featured and integrated module to manage tasks, pickups, drop-offs, destinations for all order management business needs. Planning, recurring tasks, routing, two-way communication, and a feature-packed mobile app are all included in this effective operating management tool.
LVM Track's Dispatch Solution is the best way to improve last mile delivery process and efficiency.
Here are 6 ways LVM Track's Dispatch Solution can solve your biggest last mile delivery challenges
Delivery route planning
Your driver has to follow a route to deliver. Your driver could have multiple stops with few drop-offs in total, or face the congestion of traffic and in both of cases, a lot of time and gas can be spent a lot.
With LVM Track's Dispatch Solution, it optimizes delivery routes automatically considering time, location, vehicle type, traffic to recommend efficient routes. It monitors vehicles in real-time so any updates on traffic that could affect these routes are sent to drivers in real-time with new optimized routes and ETA. It also provides an option to visually compare planned and actual routes both being shown on the map so a dispatcher can decide the most efficient routes under a variety of situations.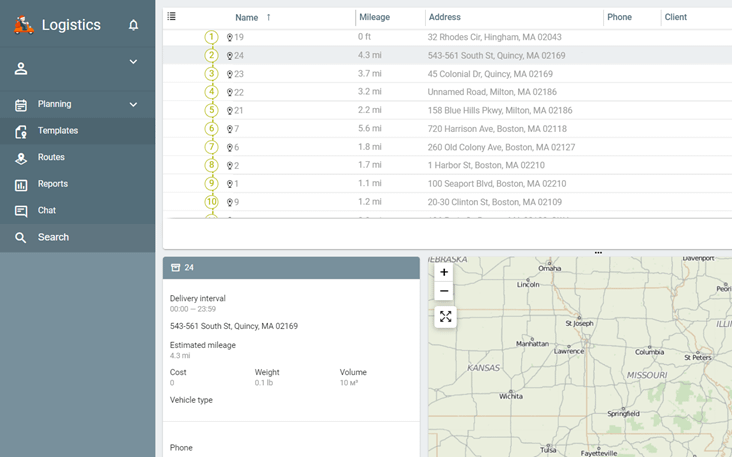 Delivery process monitoring
A dispatcher needs to monitor all delivery processes to make sure all deliveries are completed and respond to any emergencies.
LVM Track's Dispatch Solution enables dispatchers to track the delivery process in real-time and respond to emerging issues through phone calls or chatting with the driver so that they can act on any situation quickly and accurately.
Effective communication
Communication between dispatchers and drivers are important to make all delivery process fast and efficient.
With LVM Track's Dispatch Solution, drivers can communicate with their dispatchers and notify them of any circumstances considering delivery via a feature-packed mobile app. It also allows drivers to add a comment and take a photo to let dispatchers know their delivery completion.
Customer notifications
Customers are not as patient as you expect. Remember, they want free, fast delivery. As the customer demands graphs show, Customers need next day delivery and full visibility. Keeping your customers updated is considered a key to improve customer experience.
LVM Track's Dispatch Solution enables you to keep your customers updated by offering not only tracking status, but also talking to the driver directly or SMS notifications. Customers will always be notified of the forthcoming delivery and can track couriers via locator links too.
Reports and notifications
Identifying weaknesses before it is becoming critical issues, as well as monitoring KPIs are important to improve last mile delivery process and efficiency. To identify the issues, you need data to analyze.
With LVM Track's Dispatch Solution, you can monitor key metrics, such as service time, fuel consumption, mileage, routes and route costs, fulfillment time, delivery interval, estimated departure time, estimated arrival time by teams, drivers, day, week, or even by the hour of the day. You can also download or preview reports. By taking advantage of these insights, you can track your company's last mile delivery supply chain and find time allocation and possible improvements.
Driver's Mobile app
LVM Track's Dispatch Solution's mobile app is designed for couriers and delivery drivers. Making your smartphone a fully fledged working tool is easy – install the app from App Store/Google Play, authorize via the driver's phone number, and you're ready to go. Through the app, drivers receive detailed information on orders, as well as their pick up locations and planned routes on the map. All additional details – attached files, clients' contact data, etc. – are present as well. The inbuilt chat function allows to communicate with an operator through text messages and send images.
During delivery execution, a driver can set order statuses (confirmation/rejection), attach client's electronic signature or add new photos to an order.
LVM Track – Dispatch Solution
Our service allows you to perform a wide range of tasks in the area of logistics and delivery – transportation arrangements, delivery route optimization and cost-saving. LVM Track's Solution comprises a web version for dispatchers and a mobile application for drivers.
Web version is an effective management tool designed for order placement and editing, distribution processes control, route planning and optimization, delivery progress control, notification on the events on the route, and service configuration.
iOS/Android app for delivery personnel features a user-friendly interface where your couriers and drivers get detailed information on each order, planned routes and sequences of delivery points, a built-in chat for courier-dispatcher communication, and a status-based system for quick updates on the delivery progress.
Need more information? Visit our Dispatch Order Distribution page.
Contact us today!
1-800-964-4551 (phone)