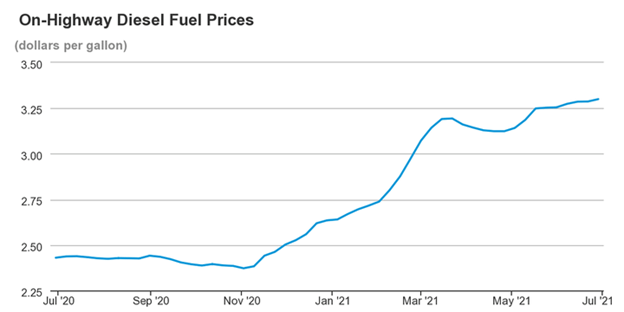 According to the graph from EIA, National on-highway diesel prices went up to $3.33 per gallon by end of June as crude oil prices hit their highest level in more than 6 years.
North American benchmark oil prices have risen from under $50US a barrel at the beginning of the year, to over $70 US a barrel recently. The price surge is expected to reach about $100 a barrel by next year.
This rise in fuel and oil prices drastically influences operational costs and impacts profitability for carriers and delivery companies as fuel represents a primary expense.
According to the infographic from TRUCKERS REPORT, fuel cost accounts for 39% of total operating costs. A commercial truck can easily consume more than $70,000 of diesel fuel per year. As the price of fuel continues to rise, your fuel costs will be expanding more than ever. That's why it is important to discuss actionable plans to tackle this price surge trend.
How to combat the effects of rising fuel costs
In order to combat the impact of rising fuel costs, it is critical to have insightful data about your fleet operations to analyze and drive effective improvements in your business. To get this insightful data, you need a robust GPS Tracking solution in your fleet to better understand how much gasoline or diesel is consumed by your fleet each month and year. A GPS Fleet Management system is also important to help analyze data and receive powerful automated reports to identify where you can drive additional efficiencies and savings.
The following areas can be analyzed and improved using Fleet Management and Tracking Software;
Speeding & Driving Behaviour
Select and monitor parameters to analyze driving behavior, such as acceleration, braking, speeding, reckless driving, and acceleration while cornering. Observing speed limits and driving patterns to help you educate drivers and improve drivers' skills is a major contributing factor in driving cost savings for your fleet. In fact, the US Department of Energy reports that after a driver reaches 50mph, as mileage starts to decrease, each 5mph you drive over 50mph can cost you an additional $0.15 per gallon for gasoline.
Idling time
Idling is another major contributor to fuel consumption and is often difficult to identify, reduce and/or prevent. According to a report from the US Department of Energy, idling can use 1/4 to 1/2 gallon of fuel per hour.
With GPS fleet management software, you can accurately identify preventable idling events and reduce and/or eliminate their occurrence. This will additionally provide useful reports such as how long your fleet was idling, how each vehicle compares to the rest, and how has idling changed over the last few months or years (to gauge trends, gauge improvements, etc.). This information can be used for additional coaching and overall driver improvement across your fleet.
Route optimization & Dispatching
Optimized routes improve mileage and fleet productivity. Efficient routes can also help a driver congested areas and minimize time loss. Fleet management systems enable you to give drivers the most optimal route for your fleet and drivers each day. These enhancements drastically reduce travel time, allowing your drivers to take extra jobs and increase revenue. By leveraging advanced fleet management and dispatching features you can optimize routes, avoid more expensive routes, and make better dispatching decisions.
Vehicle Maintenance
Receiving regular maintenance checks is important and contributes to keeping fuel costs down over time. Keeping an engine tuned up can improve gas mileage by an average of 4% according to a report from the US Department of Energy.
Fleet management software can alert drivers, fleet managers, maintenance teams, and owners when vehicles need maintenance automatically based on data such as the last time checkup date, mileage, or engine alerts.
Tire inflation
Proper tire inflation can affect gas mileage consumption. According to a report from the US Department of Energy, you can improve your gas mileage by 0.6% on average, and up to 3% in some cases by keeping your tires inflated to the proper pressure level.
Under-inflated tires can lower gas mileage by about 0.2% for every 1 psi drop in the average pressure of all tires.
By leveraging Bluetooth-enabled GPS Trackers you can monitor tire pressure, check inflation pressures to minimize tire wear, minimize fuel consumption, and take action before a problem arises.
Prepare for oil and diesel price surge
LVM Track offers the most Comprehensive & Advanced Fleet Management platform available for your Vehicles, Trailers, Machinery, and Equipment, with over 2.9 million+ tracked assets globally. Our software is easy to use, fully customizable and provides advanced industry-leading features. With our Fleet Management platform, you can visualize all of your fleet assets on one screen in a simple to operate, powerful application. Fuel Control with LVM Track is the complete solution for optimizing fuel expenditure and ultimately saving your company time and money
Want to know more?
Contact us today!
1-800-964-4551 (phone)