The Fleet Management Software Market is expected to rise with an outstanding CAGR and reach the highest revenue by 2027 according to the report from Fortune business insights.
The report forecasts that " The global fleet management software market size stood at USD 14.59 billion in 2019 and is projected to reach USD 50.09 billion by 2027, exhibiting a CAGR of 16.8% during the forecast period"
The research report is analyzed based on the fleet management software market share, fleet types, applications, solutions, by industry and by region.
This upward trend is driven by the implementation of regulatory measurements, integration of artificial intelligence, and high demand for connected cars.
For more details about the report, get a sample copy of the report at –  https://www.fortunebusinessinsights.com/enquiry/request-sample-pdf/100893
This infographic summarizes all information from the report and features of Fleet Management Software.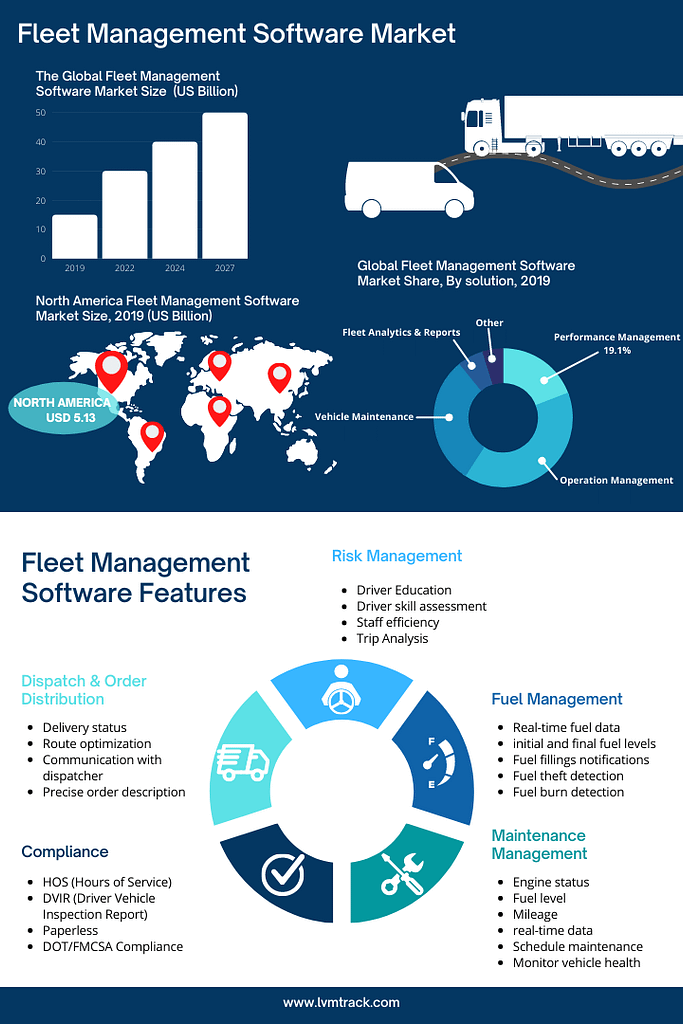 By region
The global market scope is classified across five regions, North America, Europe, Asia Pacific, Middle East, Africa, and Latin America.
According to the research, North America is the biggest market globally gaining USD 5 billion in 2019. Especially, Canada is likely to gain rapid growth in the forecast period in terms of rising adoption of telematics in the trucking industry.
By solution
According to the study, industries are most likely to seek the solutions of the supply chain management followed by fleet maintenance, such as the last time checkup date, mileage, or engine alerts. For logistics solutions, fleet management software provides real-time insights along with historical data to keep your fleets efficient. It helps optimize routes, avoid more expensive routes and make better dispatching decisions. For maintenance solutions, fleet management software can alert drivers, fleet managers, maintenance teams and owners when vehicles need maintenance automatically based on data such as the last time checkup data, mileage, or engine alerts.
Performance management is the third-highest demanded solution. The demand for the performance management solution is rising due to the policies and compliance of environmental and safety regulations and is expected to grow rapidly for the forecast period.
LVM Track Fleet Management Software
LVM Track offers the most Comprehensive & Advanced Fleet Management platform available for your Vehicles, Trailers, Machinery, and Equipment, with over 2.9 million+ tracked assets globally. Our software is easy to use, fully customizable, and advanced. With our Fleet Management platform, you see all your assets on one screen in a simple to operate, powerful application. Our in-house development team is always developing leading-edge technology to allow us to exceed our clients' expectations.
Contact us today!
1-800-964-4551 (phone)