One of the buzzwords in the commercial transport industry since last year is surely the ELD (Electronic Logging Device). It's been in effect in the U.S. since 2017 and 2021 in Canada.  In Canada, ELD will be the topic of discussion frequently this year because the penalties for non-compliance will be enforced on June 12, 2022, and very few companies are certified by Transport Canada as of the time of publishing this article.
ELDs are ECU-connected devices combined with Android or iOS Phones, Tablets, or other hardware logging screens used in the commercial transport industry which provides an accurate and simple means of keeping HOS records.  For professional drivers and fleet operators, this is required by law.
Apollo ELD: TOP 3 Electronic Logging Device
Apollo ELD provided by our partner Assured Techmatics, was selected TOP 3 Electronic Logging Devices by Verified Market Research.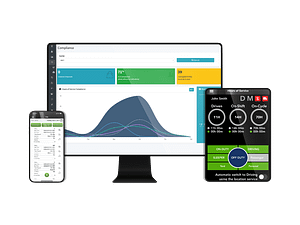 Assured Techmatics was founded in 2004 and is based in Florida, United States. Its purpose is to develop a location-based solution to improve drivers' travel experience. It has come a long way since the track and trace days. It has achieved unbelievable success with its ELD solution since it was launched back in 2016. Its flagship product apollo ELD is a powerful bundle of reliable hardware, state-of-the-art software and an ongoing commitment to support its customers and increase its satisfaction with the service it provides. – Verified Market Research
Apollo ELD is the second ELD provider listed by FMCSA and is now certified in Canada. With the ease of use and advanced features support of numerous ELD devices, DVIR, IFTA, and dispatch integration, Apollo ELD has been awarded TOP 3 ELDs.
What's unique about Apollo ELD?
Apollo ELD is a certified and ELD-compliant product that fully conforms to both ELD and AOBRD standards. While being comprehensive, apollo ELD is developed with drivers in mind and thus is quite easy to use. In addition to an app for the driver, there is a feature-rich portal for use by the back-office personnel. Remote drivers and office staff are always in sync with key information, critical to operations, is available to all.
Integration with Dispatch
Another unique feature of apollo ELD is the integration with dispatch. Drivers or back-office personnel can initiate a dispatch, i.e., pickup or delivery, and can update information as required including ETA. Shippers or receivers can log into the portal and know where the truck is and note current ETA information. This significantly reduces the need to buy a separate Transportation Management System and manage additional products which are probably not integrated with ELD. Apollo ELD is integrated with dispatch and information such as remaining driving time flows seamlessly into dispatch decision-making to better schedule drivers and maximize dispatch effectiveness and efficiency.
Key features of Apollo ELD
Extremely easy to use and navigate
Fully ELD compliant in the United States and Canada and supports Mexican rules
Integrated with multiple hardware device types
Supports IFTA
Supports key intrastate driving rules
Available in English, Spanish, Canadian French
Integrated with dispatch
Supports Android and iOS devices
Applicable for diverse industries
Commercial fleet

In 2019, the commercial vehicle market stood at 13.8 million vehicles, 30% of which being GVW 8 general freight, rental/leasing services trucks. apollo ELD proved to be reliable for the commercial fleets which are the major market.
Public Transportation

As of December 2017, Precious Cargo has installed Electronic Logging Devices on all motor coaches and school buses in accordance with the Federal Motor Carrier Safety Administration (FMCSA) Part 395, 49 CFR 395.8(a). The ELD Rule is the latest safety initiative that was enacted by the FMCSA on December 15, 2015. apollo ELD is fully compliant with this rule and provides services to the bus operators.
Logistics & Supply Chain

During the COVID-19 pandemic in 2020 logistics and supply chain vehicles were essential in delivering vital supplies to the national supermarket chains and companies. Apollo ELD provides service to big food supply chains.
Get ready for ELD compliance with us and replace your current ELD!
If you are not compliant yet or you are looking for extensively advanced features, you can easily migrate your ELD providers to apollo ELD without buying new hardware. For more details about Apollo ELD, visit our Apollo ELD page.
1-800-964-4551 (phone)