Good day LVM Track clients and partners!
2022 kicked off with a bang!  Let's hope this year treats everyone well with renewed business success, good health, and general well being!
Last year, we significantly extended the functionality of LVM Track and Pro+ add-on apps. Our services improve every month with new releases, features, and enhancements. This year we will continue improving the interface and user-friendliness. Logistics added new enhancements to routing, including more advanced routing for Google Maps licensees.
Dispatch+
Undistributed orders display
Due to resource availability, logistics users occasionally encounter situations where some orders are undistributed during daily delivery route planning. For example, if there is a shortage of vehicles, or the delivery destination is too far from the main route, the dispatcher can reassign the delivery.
When this happens, orders are not displayed in the last planning step and may go unnoticed.
To solve this issue, we added a new line for undistributed orders at the last planning step. The line is highlighted in red and is located at the top of the list. Once you click on the icon
, you'll see the reason why the order is undistributed.

Undistributed orders are added to the route on the map and in the table. If you recalculate the route without considering route restrictions, these orders will be distributed to benefit for your customer.
Vehicle types and delivery requirements
Assigning a suitable vehicle depending on delivery characteristics: temperature conditions, large-sized vehicles for large loads, etc. is difficult and time-consuming for a dispatcher. It's a lot easier if you can find it, we show you the best options without additional filtering. We added a Delivery requirements tab in settings to make it easier to find the best vehicle.
This new Dispatch+ functionality displays appropriate vehicles to the dispatcher and automatically assigns selected orders to them.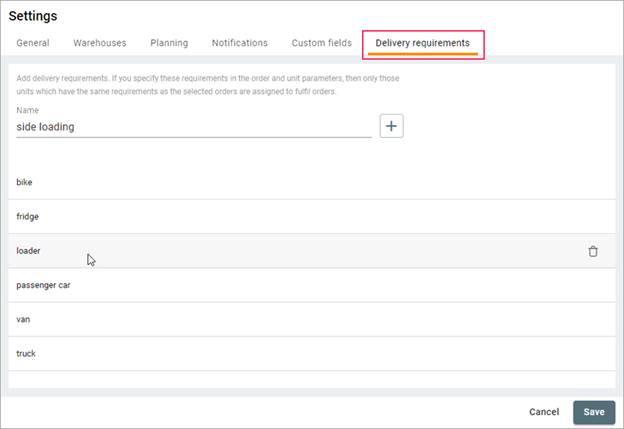 After you select orders and suitable vehicles, the system automatically assigns the orders to the selected vehicles to maximize profitability and client SLA.
Need to transport perishable goods? We have you covered. The application will find a refrigerated truck. Is the item too large? Logistics will display vehicles with a suitable size and hide vehicles that are not a fit.
Agri+
Saving maps with a related file name
When downloading files from Hecterra, the file names were automatically saved with the "mapImage" name as a default.  If you wanted to customize the file name, you needed to manually overite it.
Now if you save a PNG file with a map, its name contains basic information about what's inside.
For example, you save a map with cultivation. The file name will indicate its interval (start and end date), field name, unit, and operation.
Transit+
Upgraded User Interface
We have recently improved the appearance of some elements and tabs to improve the overall user experience. Go check out Transit+ or contact your account manager for more details!
Contact us today!
Email: info@lvmtech.com
Tel: +1-800-964-4551