Advanced technology has made it much easier to be a field worker. Mobile devices, mobile apps, SaaS, cloud-based solutions, and software integration have revolutionized how corporations manage their remote workforce to keep up with high demand. It is critical for managers to assist their field employees in performing their job more effectively, to track and complete all tasks on time.
Mobile Workforce Management solutions (MWM) provide visibility to field workers, optimize and control field operations, and mobile staff performance. How can your business benefit from a MWM solution?
What is Mobile Workforce Management (MWM) and Mobile Workforce Management Software(MWMS)?
Mobile Workforce Management (MWM) is the management of a mobile workforce with the help of tools such as apps, software, and processes or networks.
Mobile Workforce Management Software (MWMS) is a software solution integrated with MWM that enables businesses to manage their employees while they are on the go. For mobile workers, it's a tool that assists them in performing their job more effectively and flexibly throughout their day. For a manager, it's a visibility solution that helps them keep track of what their field workers are working on. This application gives managers and employees alike access to their work schedules, contact information, and other pertinent information from any location with Internet connectivity.
MWM Fact sheet: Why your business needs the power of Mobile Workforce Management
In today's global workforce, 80 % are deskless workers. According to the survey from EMERGENE, the top deskless workforce industries are: Agriculture, Education, Healthcare, Retail, Hospitality, Manufacturing, Transportation, and Construction, employ 2.7B employees.
This survey also shows the fact that 82% of respondents from those top industries are planning to increase spending on technology for their deskless workforce. Transportation and Manufacturing are the two leading industries. In addition, these industries are willing to invest in new technologies to assist their employees with productivity and keep them happy.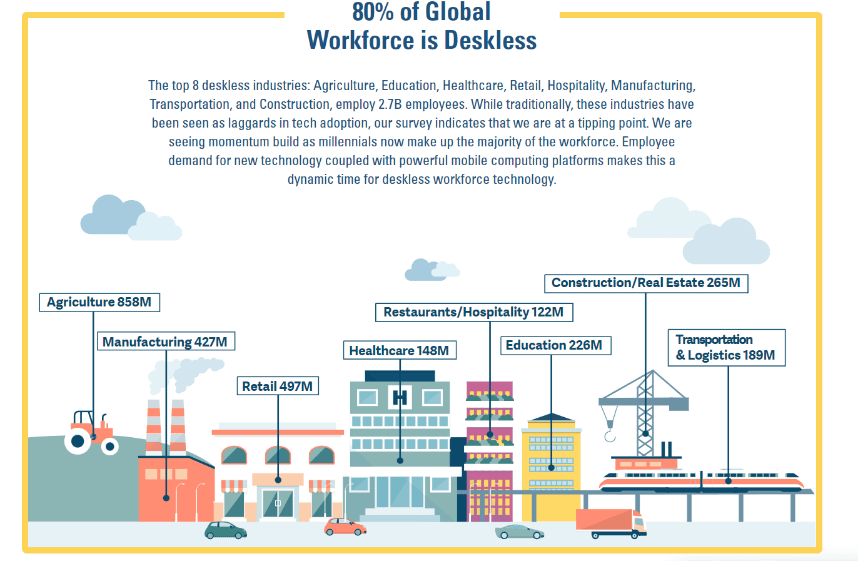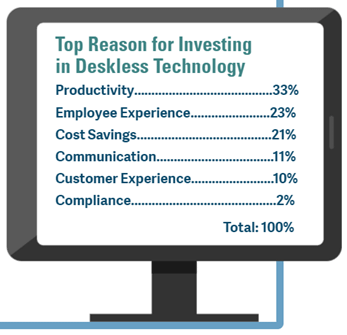 Companies with deskless workers are beginning to see that great technology can be as important to this part of the workforce as it is to the rest of their employees.
Benefits of using Mobile Workforce Management
With compact mobile devices, combined with the extensive coverage of today's wireless networks, it enables you to track and monitor virtually anything; not just where cellular service is available, but anywhere you can see the sky. The end result is improved security, productivity, and a superior customer experience.
When you integrate your MWM app with software, you can access all operational insights to make data-based decisions that help elevate your business strategy and improve productivity.
Cost-effective
MWM apps gather operational insights, such as fuel level, idling time, fleet maintenance, mileage, breakdown, driver's behavior, etc. You can make better decisions by analyzing this data to reduce operational costs. Gain insight on the best time for an oil change, vehicle replacement, fuel costs, and so much more.
Enhance staff efficiency & productivity
With the telematics data & reports, you can analyze working processes, optimize and organize
the workers, and improve efficiency. Mobile Workforce Management streamlines scheduling, dispatching, and communicating through centralized tools. That result is reducing downtime, increasing efficiency & productivity.
Safety
Safety is always a priority, especially under mobile workforce conditions such as working remotely. Mobile workers often encounter unexpected events, such as inclement weather, accidents, traffic, environmental variables, etc.  MWM will assist mobile workers in maximizing their job performance and dealing with any unpredictable incidents. With MWM, the workers get the opportunity to send pictures, SOS messages, or location info. Their manager can assist them in real-time. You always know your worker's location, speed, and status.
Improve customer satisfaction
Seamless work leads to job completion on time, which improves customer satisfaction. MWM provides a wide range of effective operating procedures for mobile workers to complete their job effectively. It provides optimized routes which will result in faster service times. It also provides advanced reports you can analyze which areas of improvement.
LVM Track Mobile Workforce Management
LVM Track Mobile is a fully-featured and effective mobile workforce management service. We capture accurate speed and detailed location throughout the day. LVM Track mobile is designed to provide visibility to field workers, optimize and control field operations and mobile staff performance.
LVM Track Mobile Features
Turn your smartphone into a tracker and make sure that with the LVM Track Mobile Workforce Management app! For more information about the app, check our mobile app page.
1-800-964-4551 (phone)