There are over 3.5 million trucks on North American roads that cross international borders.
According to the statistics from Nation's trucking alliance, 90 percent of all consumer products and food are shipped by semi-truck throughout Canada, and approximately two-thirds come from the United States.
Trucking accidents in Canada
The OPP (Ontario Provincial Police) statistics show a significant increase in commercial motor vehicles (CMV) with collisions resulting in fatality. CMV-involved fatal crashes went up 40% last year in Ontario. Based on OPP statistics, 78% of CMV collisions occurred on provincial highways.
This leads us to believe that drivers have a low awareness of safety and employers are not taking these risks seriously.
Costs associated with fleet accidents
The average cost of a loss related to a fleet vehicle accident is between $16,000 and $75,000. This increases drastically if there is a fatality involved, according to an article from automotive fleet.
As an example, the average cost of insurance for semi-trucks has increase to between $12,000 and $16,000 in the U.S. and $15,000 and $20,000 in Canada.
The roadmap to an advanced safety program
It's important to establish clear goals, and policies to demonstrate the company's commitment to building a company safety culture.  This increases safety awareness among every member of your team and helps prevent future accidents. Not only improving drivers' behaviour but the back-office can also contribute to creating a safety program for drivers. There are two effective approaches fleet companies can take to establish a safety culture in their business.
On the road: prevent incidents with video-based technology
Over 80% of all accidents involving passengers and trucks are the fault of passenger vehicles.
This is a significant number. Protecting your drivers is important, providing proof of not-at-fault ensures they continue driving (productivity) and that you are retaining talent (finding good drivers is always a challenge). https://www.lvmtrack.com/2020/11/26/a-i-connected-dashcams-are-here-to-stay/
The following are major causes of CMV accidents;
Distracted driving
Road and weather conditions
Speeding and driving recklessly
Failing to properly train drivers
What can fleet companies and drivers do to avoid these causes? Here we explore how they can detect and change these behaviours and why video-based technology is a key to preventing incidents on the road.
Today, LVM Track's A.I. Dashcam is an all-in-one recorder designed to increase safe driving. It has not all the features of a regular dash camera, and also supports intelligent driving assistance that allows companies to detect unsafe behaviours proactively.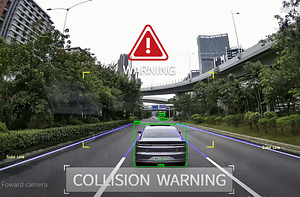 LVM Track's A.I. Dashcam captures critical incidents in super high definition. It also provides advanced active collision warning by intelligently identifying vehicles, lanes, and traffic scenes ahead via the ADAS camera and effectively predicts driving hazards such as tailgating, front & pedestrian collision, and lane departure.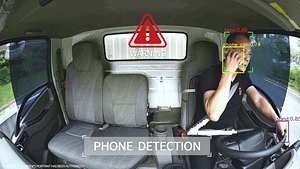 With a driver-facing camera, it is possible to identify the driver's behaviours such as using mobile phones while driving, being drowsy, distracted, and not wearing a seatbelt via the cabin camera, and giving an alarm in combination with the vehicle operation status which comprehensively reduces the traffic accidents caused by driver misconduct.
At the office: Improve safety awareness with reporting and coaching tools
Identifying and addressing unsafe driver behaviour is the center of an effective fleet safety program. Using the data collected by a dashcam and telematics, you can analyze and assess driving behaviour. By leveraging LVM Track fleet management software, you can get full visibility into countless useful data points across your operations from anywhere anytime. Reports from fleet management and analysis tools can help you approach actional insights to establish a safety culture.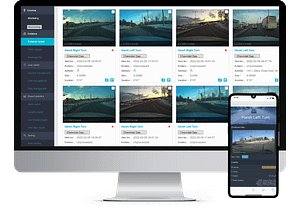 Our cloud-based web portal enables fleet companies to monitor live critical events such as accidents, crashes, or dangerous driving from any devices and those uploaded videos can be used for training purposes or insurance claims.
To establish a safety culture, here are some effective actionable plans;
Monthly reporting
Leverage advanced data from telematics and fleet management software. Reporting the rate of unsafe events or reckless driver behaviours can be the best benchmark to compare the monthly report which contains safety and efficiency data by month.
Show drivers video footage in coaching and training program
Showing actual video footage when an unsafe event occurred is the best way to educate drivers on safety and how to take the right action proactively. With LVM Track's cloud-based web portal, you review all important videos with the driver, providing a coaching and training program.
All-In-One Driving Recorder Designed for Safe Driving
LVM Track's A.I. Dashcam is an all-in-one recorder designed to increase safe driving. It has not all the features of a regular dash camera, and also supports intelligent driving assistance. It has the advantages of a powerful telematics tracker, competitive price, and low cost, secure installation.
Learn more at https://www.lvmtrack.com/a-i-dash-cams/