What's New in November
Good day LVM Track Clients and partners! We are pleased to share with our November Newsletter which covers new features and enhancements to LVM Track. Please read through these important updates and let us know if you have any questions.
We also cover the Canadian ELD Mandate which will come into effect on June 12th, 2021. If you are in the logistics industry, it is mandatory to implement an ELD before the June. Is your company prepared? There are many benefits to implement ELD's now for your business and employees, including cost savings to operations, increased compliance and safety.
LVM Track New Features and Enhancements
Odometer and Engine Hours Improvements
We've improved how we calculate engine hours and odometer on your vehicles.  We now consider historical elements and previous device messages when calculating new values.  The result?  More accurate odometer and engine hours, making recurring maintenance more accurate than ever!
New fields in our Dashboard – Top units by fuel consumption and Top units by mileage
The left field displays a chart with maximum fuel consumption by for the selected time range. The right field displays vehicles from the monitoring tab with the highest mileage for the selected range.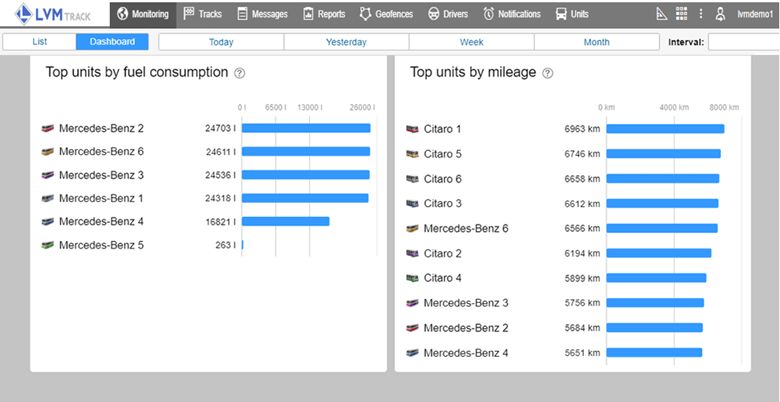 These fields help you analyze the fuel consumption and mileage data by each individual unit.
Enhancement to the LVM Track app for Android and iOS
Engine Hours and Idling have been added to the LVM Track Mobile app, making management easier than ever.  This key information now appears in reports and on live data like vehicle summary and trips.  Check out our Free Mobile Apps today!  Android  iOS
Specialty Applications
Hecterra
Improved information format in exported Excel reports
We made the following changes in the excel reports;
Increased the font size
Removed the text in the final bottom line leaving only the total figures and measurement units
The exported report becomes user-friendly to give you clear images and organized reports.
Course Software calculation
We added a check for a valid course. Previously, if the unit sent the same course or did not send it at all, then the field cultivation overlaps were not calculated, and the user saw a 0% value. Now, in these scenarios, a check for a valid course will be performed, and if it is not available, the course will be calculated directly in Hecterra.
With this new option, overlaps in field cultivation will always be calculated correctly, even if the unit sends the wrong course or does not send it at all.
Maintenance+
New Confirmation when Deleting an interval or service
When deleting service units (units, drivers, trailers) from the fleet, a new fail safe warning pops up to make sure you don't accidentally delete something that may be needed in the future.
This new option prevents users from deleting units accidentally which are assigned to intervals and/or services.
Modification of display format of cost in reports
We changed the displayed format of cost in reports in the following ways;
Displayed 5.5K value à Now it displays as 5 500
Displayed 500000 à Now it displays as 500 000;
An integer will not be rounded to thousands and ten-thousandths; for example: previously, the value 5 was displayed as 5.000, and now it displays 5.
A decimal number will be rounded until the last digit is 0 (zero), for example: 123.450 = 123.45, 123.0 = 123.
With those changes, you can see the exact value in reports which helps you analyze the costs.
Separate display of Parts & Labor in Service Costs
The app users can create a detailed cost report. On the reports tab in the report type field, there are two options;
"By fleet line items"
"By unit line items"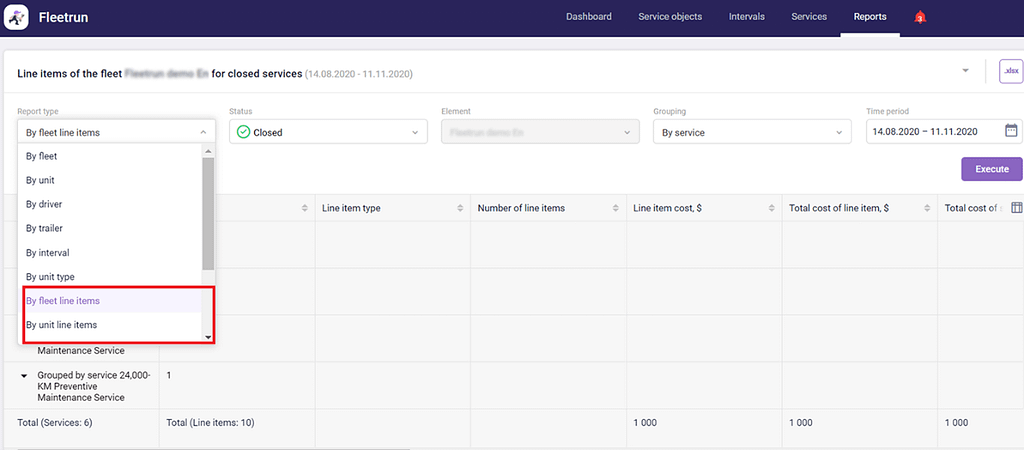 With this report, the user will be able to see the labor cost and the spare part's name, type, number, cost, etc.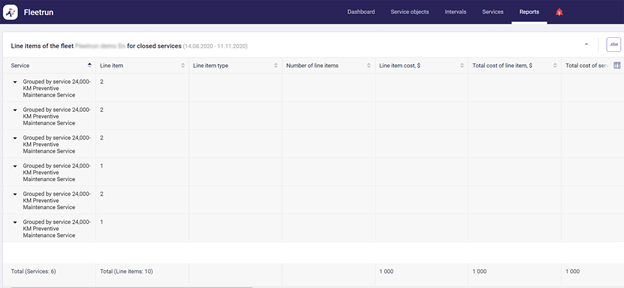 This information enables you to analyze which parts or services are the most in-demand in the fleet. Based on the reports, you can plan future costs and will lead to the reduction of fleet servicing costs.
Grouping reports by line items
We added the following new types of grouping:
"By line item";
"By line item type";
"By service";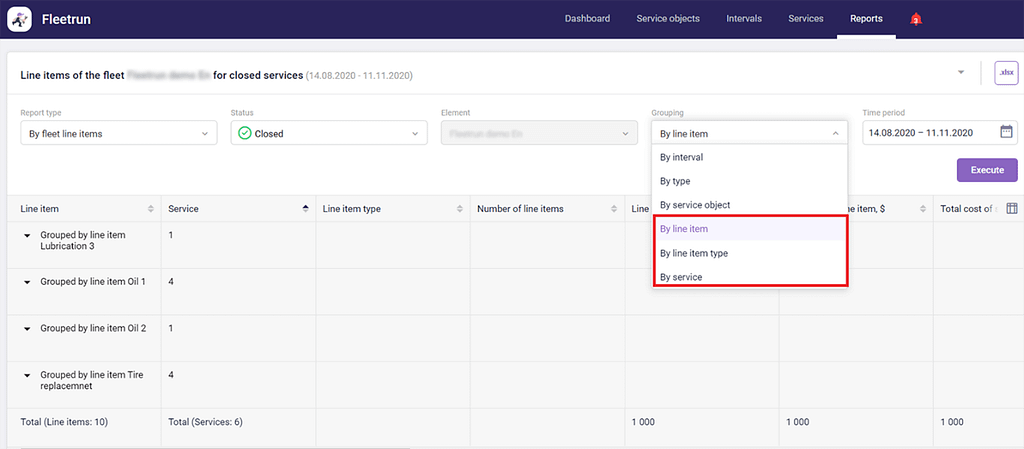 With these grouping types, your report can be more structured, and it helps you analyze costs in different angles.
Change the limit of values for custom fields with list type
We increased the limit of values in custom fields. Now users can add up to 20 fixed values in a custom field.
Logistics
Improvements to the Custom Fields Tab
You can now change the field order by clicking and dragging them to re-order the sequence.  This makes it easier than ever to organize your driver's orders.
These changes will show up in the LVM Logistics Mobile app for the driver.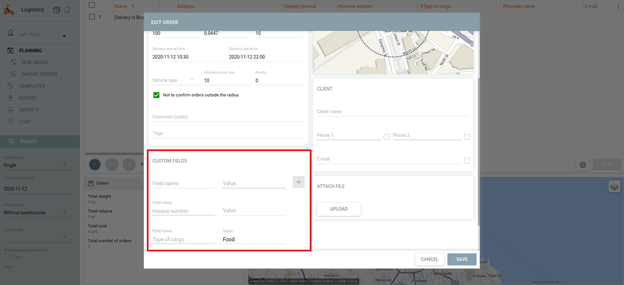 New Filter for displaying custom field in the mobile app
For mobile users, we added a filter for displaying a custom field in mobile application.
Thanks to this feature, the users can transfer the necessary delivery information to drivers. Please note that the mobile app user only can see the fields that are activated in the settings so you can classify which information is visible to mobile app users.
Custom fields in the order import tab
Now you can add the custom field you created in the settings of the template and the import tab. In the template, the fields with the drop-down list will include the columns' names, where the column name is a custom field from the user's settings.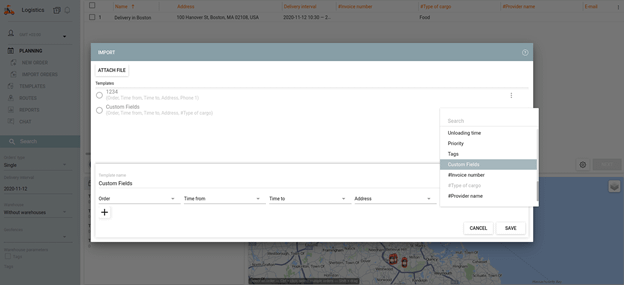 Go into Settings, and check the Custom Fields section.  You can now identify which Custom Fields can be added to routes and orders.
This makes it so much easier to import order via Excel file, providing all the details that your business needs to leverage for Dispatch and Order distribution.
Canadian ELD Mandate
If you are in logistics industry, you might be aware that the Canadian ELD (Electronic Logging Device) mandate will come into effect on June 12, 2021. You might think it's too early to prepare for the ELD. However, according to Transport Canada, they said "There will be a 24-month implementation period. During this time, companies that make or supply devices should prepare their devices and software to meet the new requirements. After this, they will need to be tested and certified." (Transport Canada)
In addition to the process of getting tested and certified, you also need to train your employees and drivers to adopt new rules and devices. Training will take time more than you expect. The faster you and your employees get used to the new rules, the more you receive benefits from the changes, such as reducing operation costs, increasing driver safety and productivity, and excellent back office management.
Check the relevant blogs to learn more about Canadian ELD Mandate;
5 Easy Steps to prepare you for the Canadian ELD Mandate
Hours of Service regulation changes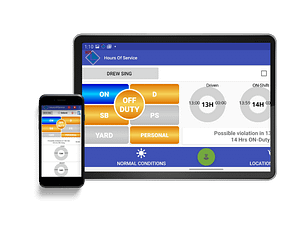 LVM ELD is a fully certified ELD solution published on FMCSA website under "Apollo ELD". Our solution enables carriers to be fully compliant with the mandate while staying adaptable with client needs and requests. This is the easy to use, fully functional ELD solution for your business. Take the worry out of ELD Management and prepare for the upcoming Canadian ELD Mandate in advance with us!
For more detailed information, please check our ELD page.
For any questions or quote, please contact us today.
Tel: 1-800-964-4551
Email: info@lvmtech.com