Updates: what's new in January 2021
Good day LVM Track clients and partners. Wishing you a Happy New Year and ongoing success in 2021.
In addition to platforms update we would like to announce some great news; we have launched the LVM Track Referral Program. By referring friends and colleagues, you now have an opportunity to earn up to a $500 reward! For details, please refer to the article at the end of this newsletter.
LVM Track New Features and Enhancements
Separate menu tab for dashboard
The quick Dashboard was previously built into the Monitoring tab. This location was not as easy to find, and if the button was pressed it would launch the Dashboard automatically upon logging into LVM Track, where you may not have wanted it to.
Now, the quick Dashboard has been moved to its own tab in the main menu bar at the top. and will no longer launch automatically (unless you had it selected from your last session).
Only units that you have selected as part of your work list will be added to the dashboard view.
New Video tab in the monitoring panel
On December 31, 2020, Adobe stopped distributing and updating Flash Player, a common software for video and audio playback on websites. This affected the live stream feature for certain camera models that reported directly into the main LVM Track portal (does not affect the dedicated Dash Cam module).
In response to this, a new Video module has been developed and added into the main LVM Track interface (top menu bar) with it's own tab. This module requires activation (if you have camera models that previously used this feature and you do not have access to this new tab please contact your account representative or email support@lvmtech.com for assistance).
Improved search results in the Access tab
We have been improving search result functionality since last summer to make the search and its result as comprehensive as possible. We have added a drop-down list with search criteria. Now a user can choose parameters to apply when searching.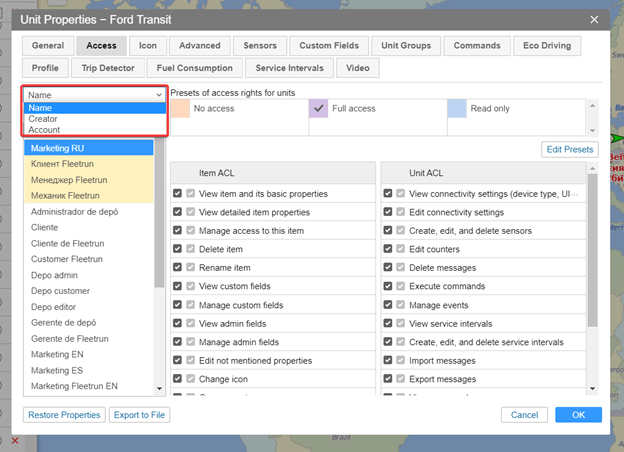 Transit+
The new version of the Online module
We released a large system update that provides the ability to manage rides in a new operation mode. The current version adds new features, such as the automatic assignment of one unit from a set, circular routes, and routes with intersections.
Agri+
Alternate measurement units
New options have been added as alternative measurement units for time, distance, area, and volume. These new options allow you to specify the time in the 12-hour format and set Sunday as the first day of the week. The following alternative measurement units have also been added:
These options have been added to assist users throughout North and Latin America.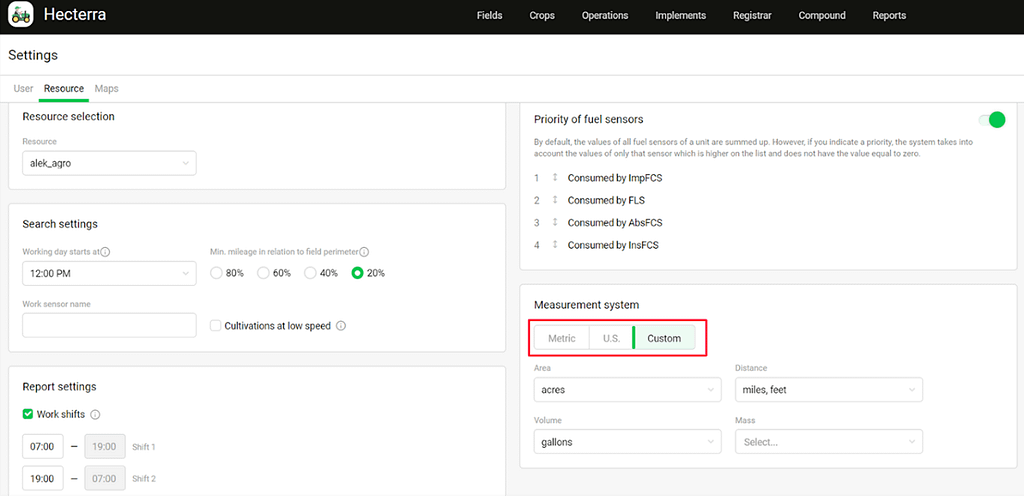 Maintenance+
The ability to delete a fuel filling
The option to delete a fuel filling has been added (for the unwanted fuel filling, ex. If it was created in error). To do so, you must have "Delete archived services" activated.

The ability to add location data when creating a fuel filling
You can now specify the location/address when creating a fuel filling to indicate where this even took place. This provides more robust data for reporting.
Do you know someone who might benefit from our products and services? Refer them to LVM using the online referral tool and earn up to a $500 reward today. It's simple, only takes a few minutes, and best of all you can refer multiple companies for multiple rewards. Follow these 3 easy steps to refer someone for and receive your reward:
Tell us about your business colleague or friend who can benefit from our services (fill out the online form)
We will reach out to them
Once they sign up, receive your reward
***Terms and conditions apply***
To see the eligibility, requirements, and reward tiers of this program, please visit LVM Track's referral program page.
Contact us today for Q4 special pricing on A.I. Connected Dash camera systems powered by LVM Track.