Protect your fleet management with integrated live-feed connected A.I. dash cams through LVM Track, a truly comprehensive telematics platform.
CONTACT US
GET A QUOTE
Improve Safety,
Reduce Liability & Save Money
The combination of sophisticated design and precise production
LVM Track A.I. Dashcam
LVM Track's A.I. Dashcam is an advanced dash camera with a built-in A.I. processor to detect driving events such as lane departure, forward collision, and improper driver behavior. It can alert the driver in real time of dangerous behaviors, and upload events to a monitoring platform to be reviewed by a fleet manager to aid him in coaching the drivers to reduce traffic risks.
All-In-One Driving Recorder Designed for Safe Driving
LVM Track's A.I. Dashcam is an all-in-one recorder designed to increase safe driving. It has not all the features of a regular dash camera, and also supports intelligent driving assistance. It has the advantages of a powerful telematics tracker, competitive price, and low cost, secure installation.
Capture critical incidents in Super High Definition
LVM track's built-in A.I. cameras help avoid unnecessary accidents, providing advanced active collision warning by intelligently identifying vehicles, lanes, and traffic scenes ahead via the ADAS camera and effectively predicting driving hazards such as tailgating, front & pedestrian collision, and lane departure.
Front Collision Warning
Lane Departure Warning
Headway Monitoring and Warning
Pedestrian Collision Warning
Front Departure Warning
Blind Spot Detection
Stop Sign
Speed Limit Detection
The limitless ability of A.I.
Intelligently identifying the driver's behaviors such as using mobile phones while driving, being drowsy, distracted, and not wearing a seatbelt via the cabin camera, including alerts, reduces traffic accidents caused by driver behaviors.
Phone Usage & Texting
Seat Belt
Face Recognition
Smoking
Distraction
Fatigue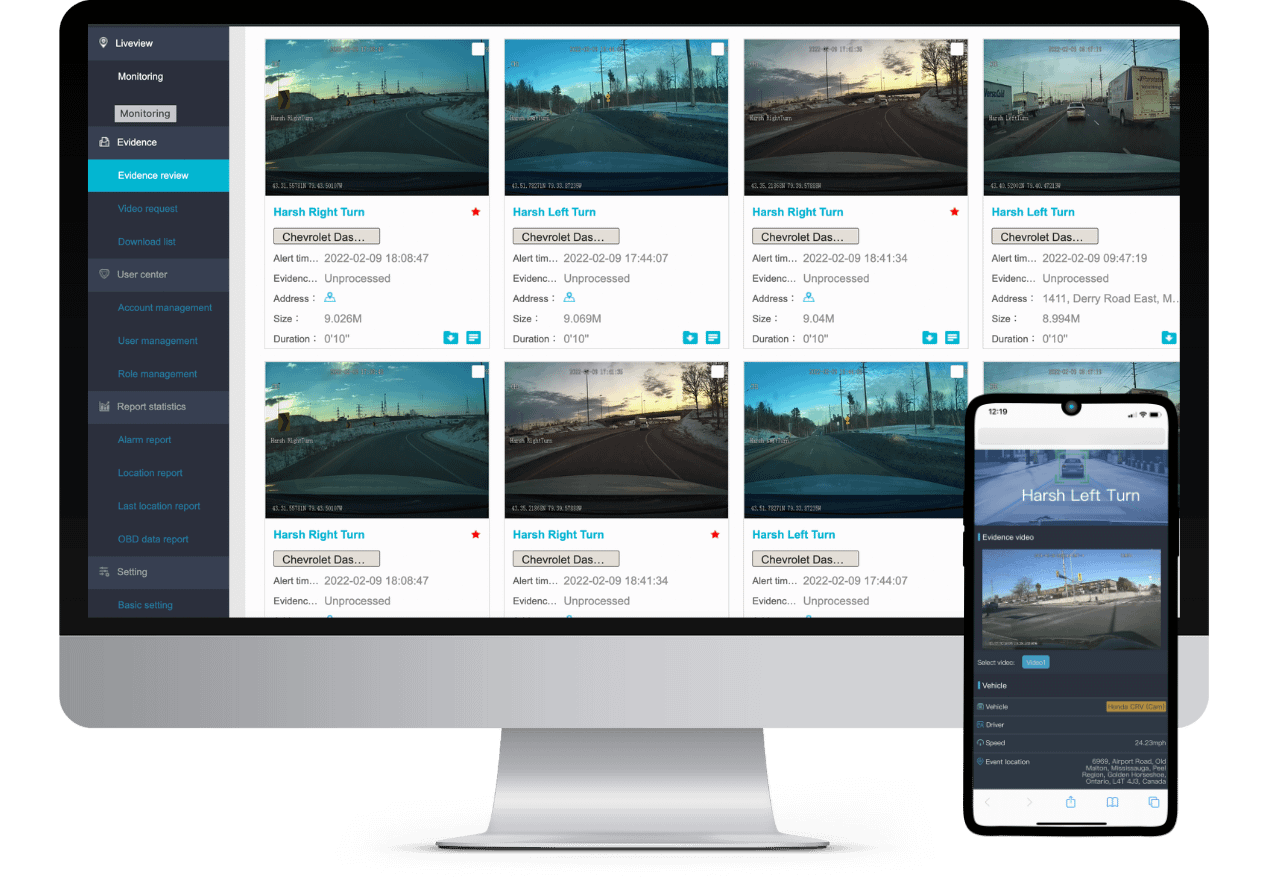 All your videos in the Cloud
Installing dash cams help you save unexpected costs and protect yourself and your drivers.
Dashcams record and monitor live critical events such as accidents, crashes, or dangerous driving to be used in insurance claims through our cloud-based web portal.
Improve maintenance cost by conducting driver training
Aggressive driving is directly linked to excessive wear and tear, and costly repairs & maintenance bills.
By reviewing videos with drivers and engaging in active coaching you can curtail this behavior to reduce fleet maintenance costs by as much as 16%. The result? Longer vehicle service life drastically reduced maintenance costs and safer drivers.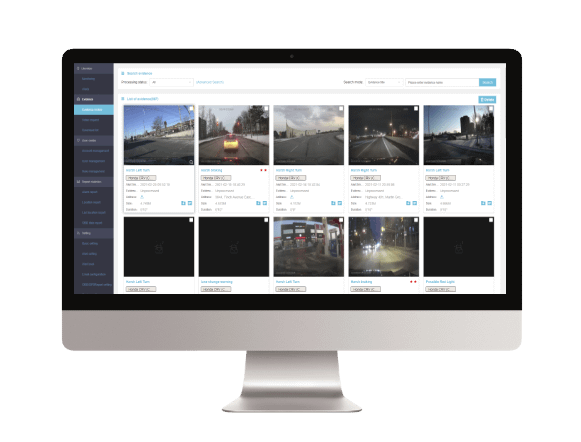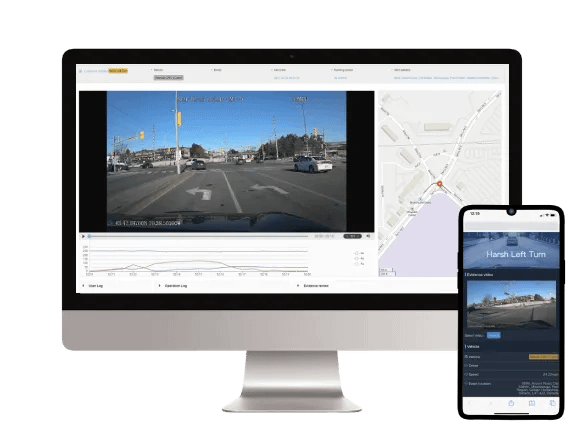 Best A.I. Accuracy
Audio & Video Recording
Highest Resolution/ 5 Mega Pixel
Built-in Telematics / GPS Tracking
Reliable & Secure Local Storage
Continuous Recording & Critical Road Event Monitoring
Multiple Camera Support
Single Login Point Unified Fleet Intelligence Platform
Available Interior/Exterior Cameras
Automated Real-Time Alerts with Multiple Trigger Types
Cost-Effective
Real-Time Video Feed
Various Hardware Models Available
Scalable
Cloud-based web portal
Protect Privacy
Built-in Dead Reckoning GPS
GPS Tracking & Management Platform
North America Data
Video Management Service
A.I. 5 Mega Pixel Lens – Road & Driver Facing
Driver Safety Notification Alert
ADAS automatic calibration
Built-in AI event detection with ADAS and DSC capabilities
Built-in Bluetooth, Wi-Fi & LTE modules
Supports Sleep Mode
LVMTRACK RESOURCES
A.I. Dashcam Resources
In the waste management industry, efficiency, timeliness, and precision are crucial. An unexpected issue can interrupt the entire sched...
Get answers to all your questions you might have.
We will answer any questions you may have about our online sales right here.